Directions to our camp and locations at Plataea
The camps at Plataea are located approximately 200 meters due east of the town's roundabout and the Visitor's Centre on the road marked 'Epar. Od. Agorianis-Koronias' on Googles maps.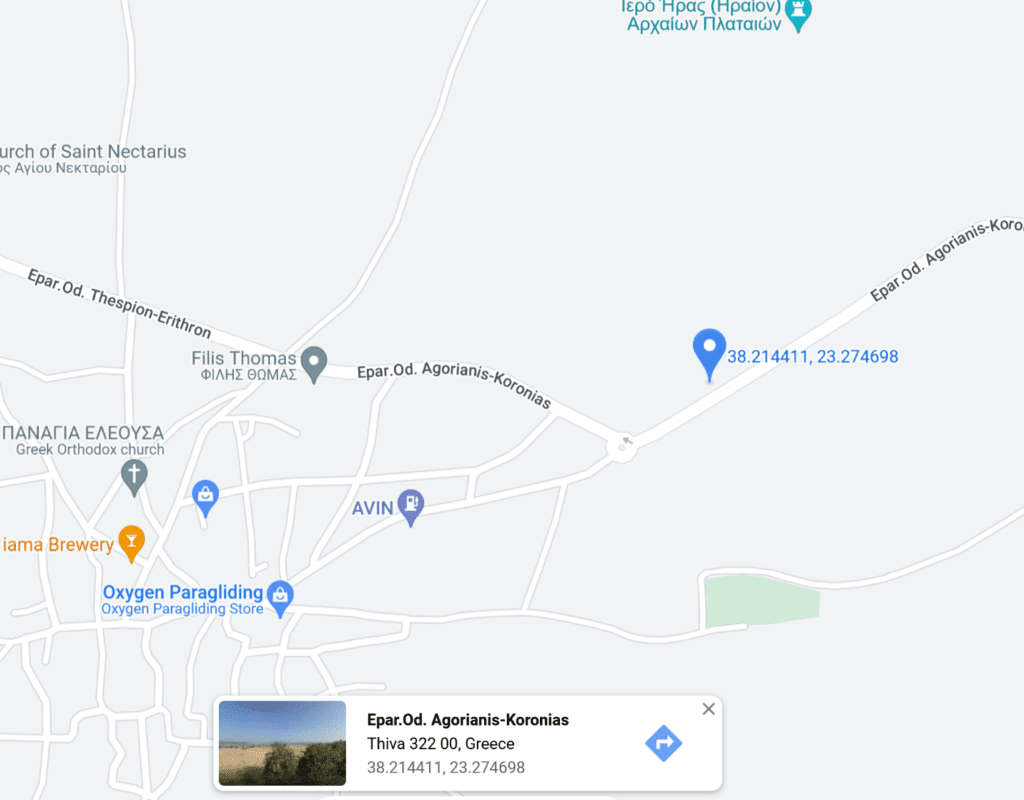 Plataea is most easily accessed from the Airport at Athens by taking the Attiki Odos (A62) from the airport; look for signs that say A6/E94 Elefsina/Athina in 5 KM. Now drive about 24 kilometers around the top of Athens, always on the same road, paying tolls everywhere (sorry) and look for EXIT 8 for A1 LAMIA. It's very well marked. Stay with the exit and get on the A1 to Lamia.
After 74 kilometers on this multi-lane superhighway, look for the exit marked LIVADIA/THIVA. At the bottom of the exit ramp, turn LEFT onto Ενωτικη Θιβας – Α/Δ ΠΑΘΕ.
After 3 kilometers you will come to a roundabout. Go 'straight' (ie take the second 'exit') to stay on Ενωτικη Θιβας – Α/Δ ΠΑΘΕ. In 1.5 kilometers, stay right at the intersection (slight right) to stay on Ενωτικη Θιβας – Α/Δ ΠΑΘΕ and look for signs for Thiva Θηβα. Ιn 70 METERS
Turn right onto Anlidos (Ανλιδος) and go 700 meters to the roundabout. Take the third 'exit' from the roundabout (approx. ¾ round) to get on 'Oparchigou Vogkli' heded approx. WEST. In 2.3 Kilometers turn LEFT at a T intersection to get on EO Elefsinas – Thivon A13/E962/EO3 (signs for Elefsina/Erethres)
In 11 Kilometers turn right on Epar. Od. Agorianis-Koronias. It is a small road, and you can see the much larger town of Erythres to your left. Anyway, turn right. You are almost there!
In 3.5 kilometers you will see the camp and the visitor centre on your right. If you come to the roundabout fo the town of Plataea, you have gone slightly too far!
READING STREET AND ROAD SIGNS IN GREEK CAN BE CHALLENGING. WE STRONGLY RECOMMEND USING GOOGLE MAPS OR EQUIVALENT TO NAVIGATE. If you enter 'PLATAEA Greece' it should take you to the right place, but give it a look on screen and make sure it's a small town next to Erythres and just south of Thiva/Thebes. There are other Plataeas.
If you run into any trouble, call or text me at +14169846434 and I'll do my best to help. Just keep in mind that there are 120 people coming and a host of Greek officials and I may be busy…